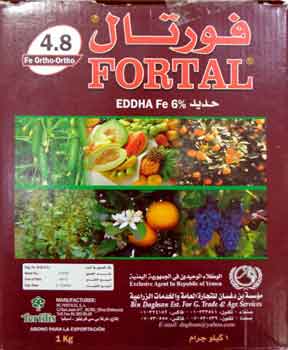 Fortal
Application Recommendations:
These application rates are for generally for all applications and it might be beneficial to make an analysis for the soil and parts of the plant in order to decide separate application rates for each case.
It is used as a fertilizer to stimulate growth. To be applied 20kg/hectare by mixing, scattering, or spraying on the plant.
Crops

By spray on the shoot system
(3 or more sprays as needed)

By spray on the soil

Citrus, mango

300g/100 liters of water

At nurseries 8.5g/m2 when trees are at abundant yielding and as per tree size
50-200g/tree

Vine, coffee

200g/100 liters of water

10-40g/tree, by lines spray or side spray

Field crops:
wheat, clover, corn

500g/hectare in 1000 liters of water
at least 500g/hectare

3-5kg/hectare
by lines spray or side spray

vegetables

300g/100 liters of water

2-5kg/hectare

Ornamental plants and green plains

300g/100 liters of water

2-5g/m2
2g/m2