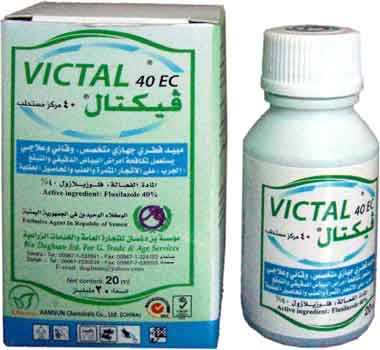 Victal 40% EC
Emulsifiable Concentrate
Specialized systemic fungicide, curative and preventive for controlling powdery mildew, spots (scab) on fruitful trees, vine and field crops.
| | |
| --- | --- |
| | Composition |
| 400 g\L | Fluazolzole |
| 600 g\L | Inert ingredients |
Victal 40: A highly effective systemic fungicide of the trizaole group, which inhibits the bio-construction of the fungal ergosterol.
Victal 40: controls a broad spectrum of fungal pathogens and has long-lasting effect. It also has a retroactive curative effect as it eliminates infection with scab if infection occurs within 5 days before application.
Victal 40: stops secondary pollination of some fungi when used even after the appearance of infection symptoms.
Victal 40: is rapidly absorbed by plants as it enters immediately to the tissues and is not cleaned out by rains even after falling within 3-4 hours of spraying.
Victal 40: is included in Integrated Pest Management (IPM) as it has no harmful effect on bio-enemies.
Application Rates:
Crops

Diseases

Application Rate
ml/100 liters of water

Application periods

Safety periods

Pome fruits

Powdery mildew, scab, spots

8 ml

Spraying is advised primarily at critical stage of infection and to be repeated 3-5 times every 10-12 days

14 days

nut trees (peach, apricot, plum)

Powdery mildew and monilia

8 ml

Spraying to be applied at blossom until before harvesting. To be repeated 3-4 times every 7-10 days

7 days

vines

Powdery mildew

2.5 – 4 ml

First spray at 3rd leaf stage, and control to be continued every 10-14 days until fruit coloration

28 days

Beta vulgaris

Leaf spots, downy mildew

15 – 20 ml

Spray is applied at the appearance of symptoms and to be repeated every 14 days

28 days