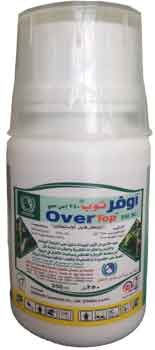 OVER TOP 35% SC
Suspension Concentrate
One of the most powerful insecticides against whitefly, thrips, scale insects, and sucking insects such as aphids, leaf hopper, beetles, and leaf miners in greehouses affecting vegetables, citrus, fruit trees and ornamental trees.
| | |
| --- | --- |
| | Composition |
| 350 g\L | Imidacloprid |
| 650 g\L | Inert ingredients |
Over Top is a systemic insecticide highly effective through roots, by contact, and through the ingestion. It has great effect on all sucking insects, some leaf-eating insects such as beetles, whitefly, leaf miners, aphids and leaf hoppers.
Application Rates:
Crops

Diseases

Usage rate

ml/100 liters of water

Safety Period

Vegetables: tomato, pepper, greenhouse cucumber, zucchini, eggplant, cauliflower, carrot

Aphids, leaf hopper, thrips, whitefly, beetles, wireworms, cotton aphids

6 – 10 ml

7 days

potato

Aphids, Colorado beetle, whitefly

6 – 10 ml

14 days

Fruits: apple, nut trees, peach, banana

Thrips, scale insects, aphids, whitefly, leaf miners, pear psylla, powdery bug, Colorado beetle

3 – 4 ml

14 days

Field crops: wheat, pop corn, cotton

Aphids, whitefly, beetles, leaf hoppers

6 – 10 ml

14 days

tobaco

Aphids, whitefly

6 – 10 ml

14 days

Ornamental plants

Aphids, thrips, whitefly, beetles, powdery bugs

6 – 10 ml

14 days