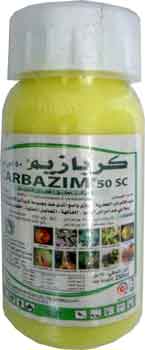 Carbazim 50% SC
Suspension Concentrate
Broad spectrum systemic fungicide against a large group of diseases. Used as preventive and curative against diseases of vines, fruits, field crops, vegetables and ornamental plants.
Carbazim has a curative efficacy because it is systemic and combats diseases internally and externally. It is highly effective in eliminating the disease and halting its spread.
| | |
| --- | --- |
| | Composition |
| 500 g\L | Carbendazim |
| 500 g\L | Inert ingredients |
Application Rates:
Crops

Diseases

Application Rate
ml/100 liters of water

Safety Period

Citrus

Powdery mildew, damping-off

50 – 100 ml

2 weeks

Vegetables

Powdery mildew, white mould, wilt, brown rot, leaf spots, stem rot

50 – 100 ml

1 week

Cucurbitae

Powdery mildew, brown rot, wilt

50 ml

1 week

Strawberry

Powdery mildew, brown rot

50 – 100 ml

1 week

Pome trees

Scab, powdery mildew, rusts

50 – 100 ml

2 weeks

Vine and stone trees

Powdery mildew, brown rot

50 – 100 ml

2 weeks